You dont need to be looking for investment to attendThe DailyDOOH Investor Conference. This intimate and exclusive event, always limited to no more than 100 C-Suite executives, is now in its 14th year and brings together executives from established AdTECH, Digital Signage and Out of Home companies, Entrepreneurs, Founders and Owners of Technology and Media startups with Private Equity Firms, Venture Capitalists, Angel Investors and Landlords, Retailers and Transport Authorities.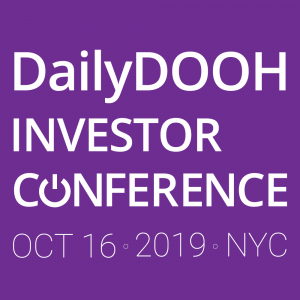 The conference will be chaired by DailyDOOH Editor-in-Chiefwho has a history of organising and moderating some of the most popular and successful industry events during the past decade.
Attending will help you understand the key trends in AdTECH, Digital Signage and Out of Home and stay abreast of future technology trends in todays fast-paced digital environment.
As well as hearing from world-class innovators and speakers, as they discuss the opportunities in the industry you will gain invaluable insight on the criteria being used by investors in capital raise efforts as well as network with other successful entrepreneurs and senior industry executives.
The DailyDOOH Investor Conferencewill once again take place as an integral part ofNew York Digital Signage Week this year, on Wednesday October 16, 2019.
The Software Holocron (Digital Signage, Gesture, Kiosk and Touch)
LiveXLive Content On @ZoomMediaUS Cardio Machines
UK OOH Industry Rolls Out Reinvigorated Missing People Campaign
NOVUS President Debbie Drutz to Chair DPAAs WE.DOOH
News America Marketing Launches In-Store Media Network